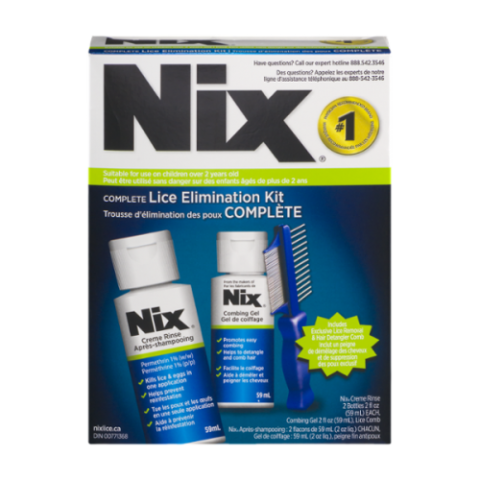 Nix® Complete Lice Elimination Kit
Get all the lice treatment products you need—in one complete and convenient kit. The Nix® Complete Lice Elimination Kit provides all the de-lousing tools and information needed to walk you through the entire process of removing lice from your life! Treat lice in 2 easy steps: 1) Treat and 2) Remove. The Nix® Complete Lice Treatment System Kit contains:
Nix® Crème Rinse
Nix® Lice and Egg Removal Comb and Gel
Simple Tips for Prevention
Teach Good Habits.

 

Personal belongings such as brushes, hats, and towels can pass lice. So don't share.
Be Aware of Shared Spaces.

 

Keep personal items (hats, coats, etc) out of common areas.  
Avoid Outbreaks.

 

If you know of an outbreak, avoid locations where head-to-head contact would occur like sporting activities.