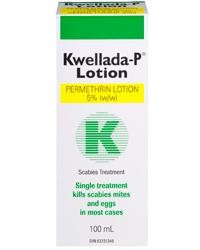 Kwellada-P® Lotion
Kwellada-P® lotion is a body lotion for the treatment of scabies. With one treatment, Kwellada-P® lotion kills scabies mites and their eggs.  
Simple Tips for Prevention
Teach Good Habits.

 

Personal belongings such as brushes, hats, and towels can pass lice. So don't share.
Be Aware of Shared Spaces.

 

Keep personal items (hats, coats, etc) out of common areas.  
Avoid Outbreaks.

 

If you know of an outbreak, avoid locations where head-to-head contact would occur like sporting activities.